Samsung Dishwasher 14Place Silver DW60M5070FS
Cleans thoroughly with less energy & effort
Samsung Dishwasher 14Place Silver DW60M5070FS,  Enjoy a much smarter and more efficient way of cleaning dishes. It has a high energy efficiency rating, and the baskets move effortlessly and can be configured to hold many different items. You can also remotely control the dishwasher and download specialist programs using the SmartThings App*.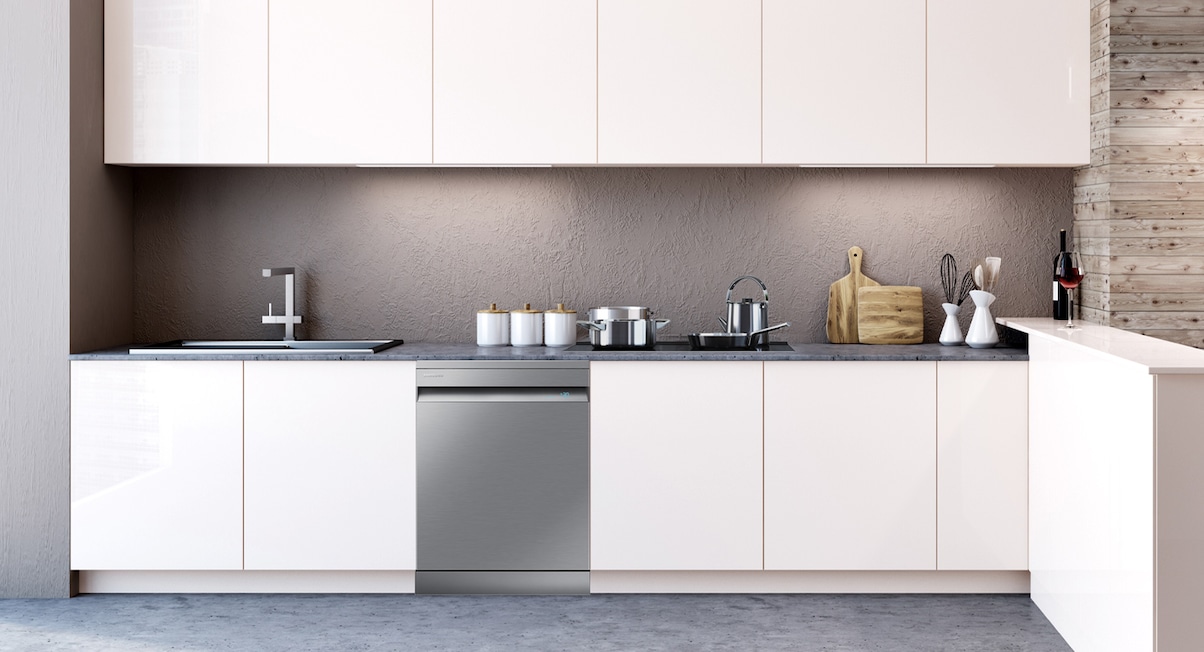 Uses less energy, cleans effectively
High Energy Efficiency
Use less energy but still clean dirty dishes effectively. Under the new European energy labelling system due in 2021, it has a high energy efficiency rating with B/C energy labels*. So it is proven to consume less power without impacting on its washing performance or sacrificing functionality.
* B energy label: DW60A8070** & DW60A8060**, C energy label: DW60A8050** & DW60A8040**.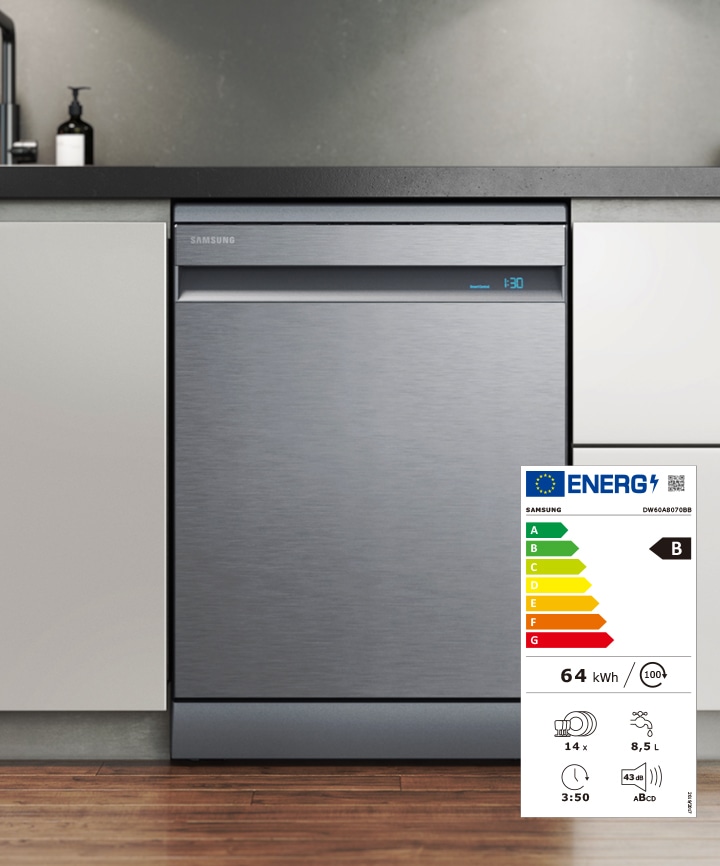 Simply more convenient
Soft Railing
Pull out a basket full of dishes more easily and safely. The Soft Railing uses a ball bearing rail system that creates less friction, so racks slides in and out smoothly with little effort, even if they contain heavy pans. And it minimizes the risk of items falling out as there's less shaking.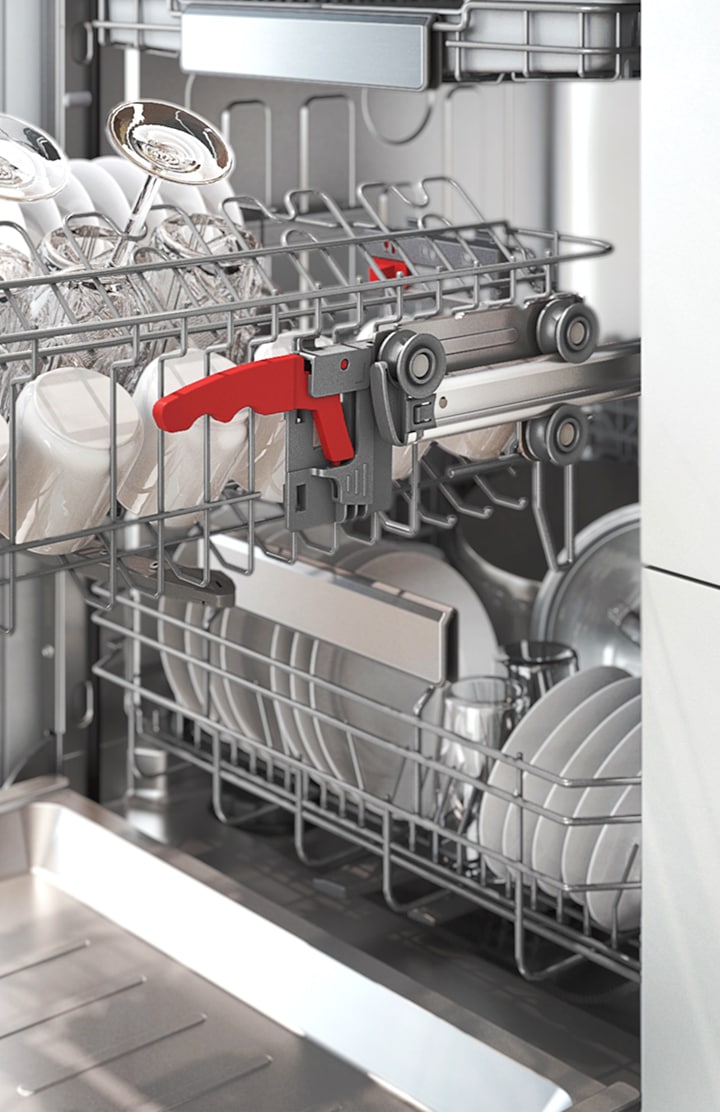 Flex Load
Fit in various dishes, glasses and cups more easily and safely. The angle of the tines in the middle rack can be adjusted across 3 settings using a lever behind it. The lower rack's tines also fold down to fit in large cookware. And a Tumbler Support safely holds delicate items, like glasses.
Auto Adjust
Fit in different types and sizes of dishes more easily. With one touch, the Auto Adjust feature lets you quickly move the upper rack up or down. By creating more space in the lower rack, it can accommodate various sizes and shapes of dishes, including tall pots, wide platters and large plates

Convertible Metal 3rd Rack
Make better use of your dishwasher space. A Convertible Metal 3rd Rack at the top provides a dedicated area for cutlery and kitchenware, freeing up to more space in the lower racks. It also means items can be loaded and unloaded easily, especially as it is detachable and can be moved anywhere
Clearly see if it's on with one glance
Floor Info Light
Check if your dishwasher is working with one quick glance! The Floor Info Light projects a blue beam onto the floor when a wash cycle is in progress. It's easy to see, even from a distance. And as soon as your dishes are clean and ready to be unloaded the light turns off. So no more guessing!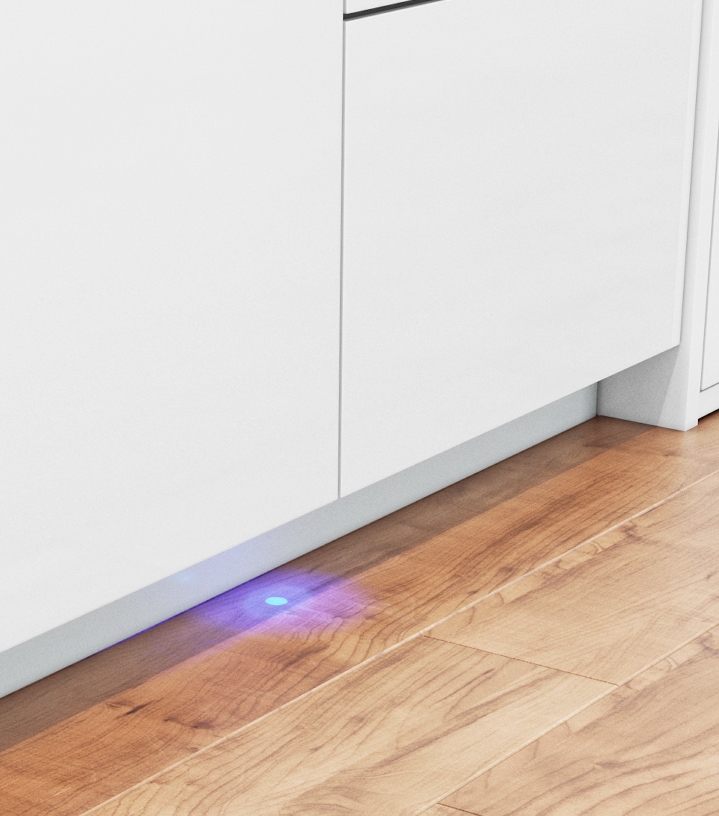 A smarter way to clean your dishes

Clean your dishes more intelligently
Enjoy a smarter way to control and customize your dishwasher. No matter where you are, with the SmartThings App* you can remotely monitor and control the dishwasher using a smartphone. And it's really easy to personalize your cleaning experience by downloading any one of 4 specialist programs
Easy remote monitoring and control
Clean your dishes wherever you are! The SmartThings App* lets you remotely monitor and control your dishwasher anytime or anywhere using a smartphone. You can easily check its status, turn it on/off, get cycle recommendations, select programs and options and receive diagnostics information.
Personalize your cleaning experience
The Download Program option lets you choose from 4 additional specialist programs and instantly download the one you want using a smartphone App. Simply select the "Extra Silence", "Pots and Pans", "Plastic Kitchenware" or "Baby Care" cycle.
* Available on Android and iOS devices. A Wi-Fi connection and a Samsung account are required.
Sleek & seamless looking sliding door
Kitchen Fit™ Sliding Door*
Make sure that your dishwasher fits perfectly into your kitchen furniture. The Kitchen Fit™ Sliding Door* features a sliding hinge that allows the door cover to slide upwards when the door is opened. So, unlike a fixed hinge, the door can be opened fully without having to cut the plinth below.
* Only available on certain models: DW60A8060IB, DW60A8040IB.
** Custom panel weight range: 4-10kg (Self adjusting).
Hygienic rinsing to eliminate bacteria
Hygiene Care
Rinse hygienically to eliminate germs and bacteria. With certain programs, a Hygiene Care option extends the final rinse and increases the water temperature to 70˚C. This enables deeper cleaning and kills off 99.999% of bacteria*. So your dishes, cutlery and utensils are always safe to use.
* Based on testing by Intertek: place a test vessel that has been injected with bacteria into the dishwasher, and count the number of bacteria before and after washing with the Eco + Sanitize course. Removes 99.999% of certain bacteria, including Escherichia coli, Salmonella enteritidis and Listeria monocytogenes. Individual results may vary.
Sanitize the inside without detergent
Keep the inside of your dishwasher hygienic, while being eco-friendly. Using Self Clean you can clean the cavity with one touch of a button. It removes dirt and odor-causing bacteria using only water, so you don't need harsh detergent. And it automatically notifies* you when it needs cleaning.
* A smartphone App, available on Android and iOS devices, and a Wi-Fi connection are required.
Less noise. Less disturbance at home.
Extra Quiet
Minimize noise in your home. The dishwasher works more smoothly and quietly as it has an Inverter motor. It also has an Extra Silence program that washes a little bit slower, but creates 2 decibels less noise than the ECO program*. The amount of noise it makes is even quieter than a library.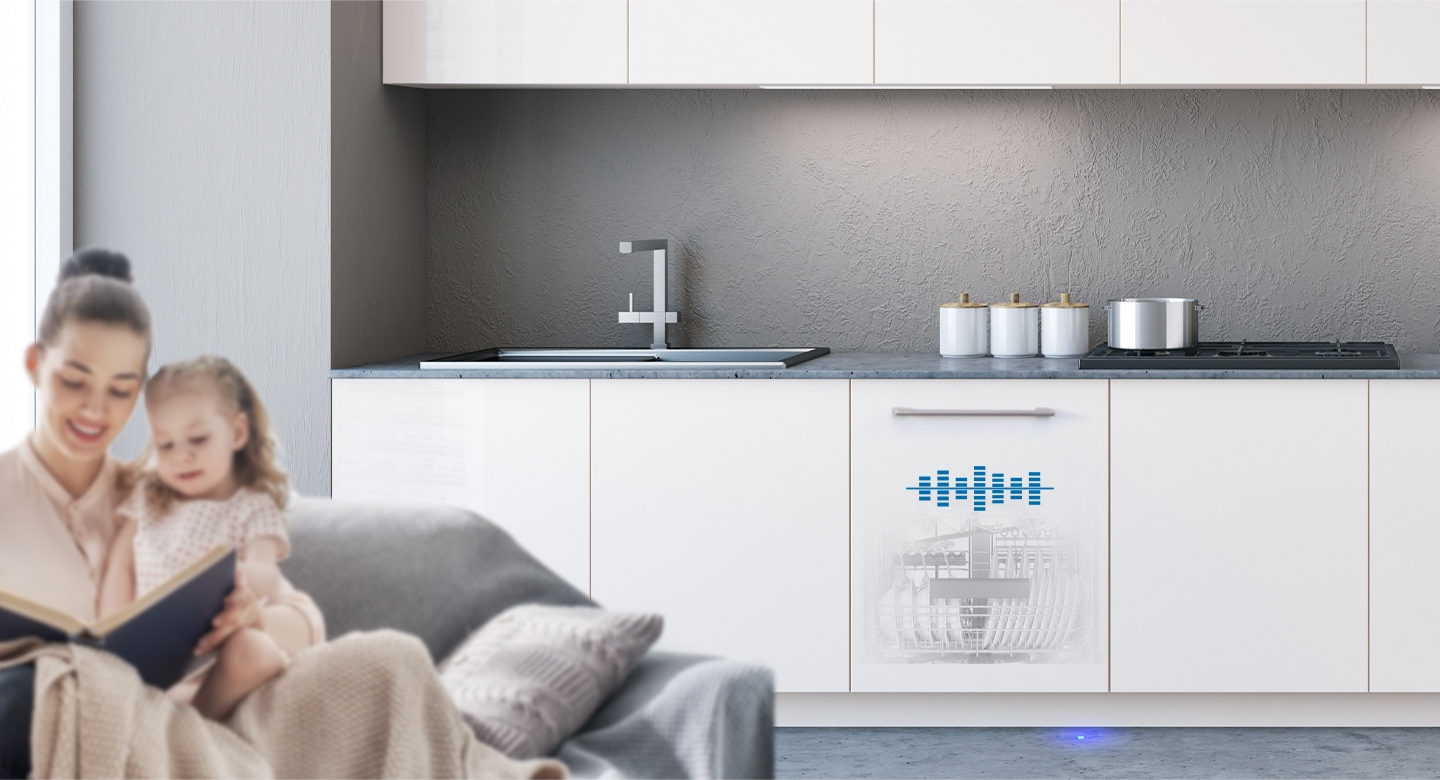 * Extra Silence program: 40~41dB, ECO program: 42~43dB. Based on testing conducted in an internal laboratory.
Fast, effective washing using any cycle
Speed Booster
Cut your washing time, but still get hygienically clean and dry dishes. Simply select the Speed Booster to complete the cleaning process much faster, no matter what the cycle type or load size. It's the ideal solution when you need to quickly wash some dishes or plates for a meal or a party.
Auto opens to release steam & dry faster
Auto Open
Samsung Dishwasher 14Place Silver DW60M5070FS , Get sparkling clean dishes every time with the Auto Open feature. When the rinse and dry process is complete, the door automatically opens 10cm to allow steam to escape. It gives you faster and better drying results than conventional methods, especially for plastic and small items.
Prevents hazardous & damaging water leaks
Aqua Stop
Stay safe from unexpected water damage with the Aqua Stop safety function. It shuts off the water supply and the electrical connection to stop the operation of the dishwasher if it detects small traces of water. So it protects you from electrical shocks and potentially expensive water damage.