Samsung Refrigerator 470 Liter RF49A5202SL
Samsung Refrigerator 470 Liter RF49A5202SL
Ensure food stays moist and fresh for twice as long. twin cooling plus optimizes the temperature and humidity in the fridge and freezer with independent cooling. It preserves food in optimal conditions. With high humidity in the fridge. And protects its flavor by preventing odors mixing.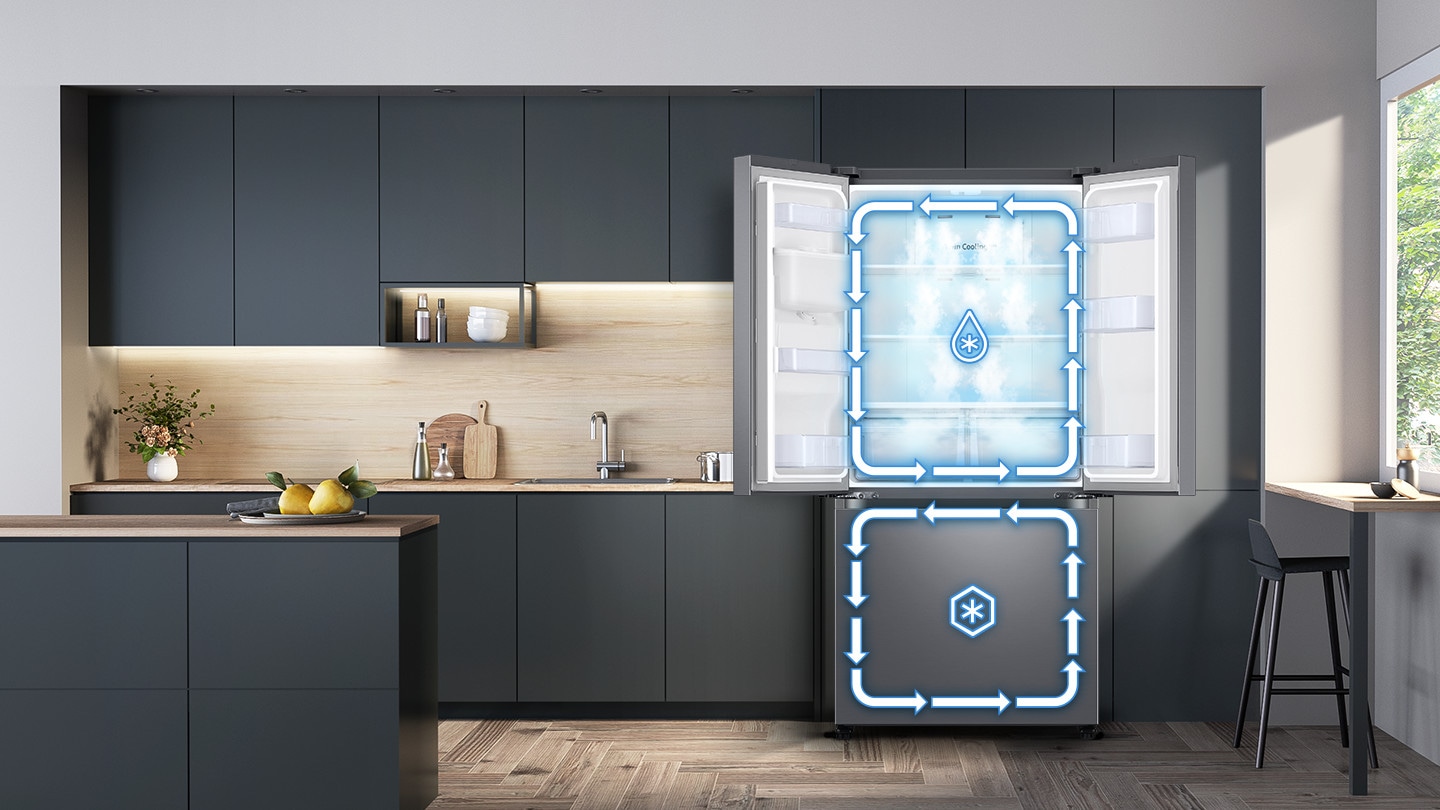 Give your home a stylishly integrated appearance. Its premium built in design is both neat and modern. But won not look out of place with your existing appliances and cabinets. It also features strikingly beautiful flat doors and recessed handles. So they do not protrude and get in the way.
| | |
| --- | --- |
| | Make sure your kitchen always looks spotlessly clean. A special Fingerprint Resistant Finish prevents surfaces from becoming covered in unsightly fingerprints and other marks and smudges. And they can be quickly wiped away if any do appear. So your home will stay looking flawlessly beautiful. |
| Make sure you always have plenty of ice that you can easily scoop out or serve anywhere. An Auto Ice Maker is built into the fridge door. Freeing up freezer space but still makes and stores lots of ice. And the ice bucket can be tilted to scoop out ice or detached and moved wherever you like. | |
Enjoy a rapid cooling performance. At the touch of a button. Power Cool blows intensely cold air into the fridge to quickly cool your groceries or favorite drinks. Power Freeze delivers a fast blast of cold air into the freezer. It is great for freezing or firming up frozen food and making ice.
 Water Dispenser is perfectly aligned with the minimalist design of modern kitchens. It is seamlessly integrated into the door with minimal controls. So you can get refreshingly chilled. Filtered water without opening the fridge.

Brighter, energy efficient lighting

LED lighting

LED lighting beautifully brightens virtually every corner of the interior space with brighter and softer lighting so you're able to quickly spot what you want and your favorite foods are always easy to find. Plus, it emits less heat and is more energy-efficient than conventional lighting.

Enjoy stylish, but easy control, even if you have restricted movement. The Easy access control enhances the minimalist design as it is discretely hidden inside. The controls are within arm's reach, even from a wheelchair, and usable with one hand, ensuring better accessibility for disabled people.