LG 65″ NanoCell 4K TV 65NANO846QA

LG 65″ NanoCell 4K TV 65NANO846QA
LIGHT UP YOUR WORLD with SELF-LIT PiXELS
LG OLED TV is a joy to behold. Self-lit pixels allow truly spectacular picture quality and a whole host of design possibilities, while the latest cutting-edge technologies help deliver unprecedented levels of wonder. This is everything you love about TV — elevated in every way.
What makes OLED unlike anything else?
The answer is self-lit pixels. A self-luminous display technology that makes all the difference to your viewing experience. Unlike LED TVs that are restricted by backlight technology, LG OLED TVs are capable of extreme realism and unique designs.
SELF-LIT PiXELS.
million reasons to love OLED.
When it comes to picture quality, OLED beats LED hands down. That's because OLED has millions of self-lit pixels capable of producing perfect black and accurate color. The result is a viewing experience like no other.
OLED puts LED in the shade.
Put simply, OLED has millions of self-lit pixels that can turn on and off to achieve perfect black and infinite contrast. That black is better than both mini-LED and LED TVs. So it doesn't matter how many thousands of backlights they have, LED TVs will still be in OLED's shadow.
100% Color Fidelity
OLED passes with flying colors.
Global testing agency Intertek has confirmed that LG OLED displays have 100% color fidelity. So, this means that the colors you see on the screen closely match the colors of the original image. So everything you watch looks as the creator intended.
*Color fidelity determines whether a display's color accuracy is Delta E ≦2 across 125 color samples.
**83-inch LG OLED panel will be certified in the first half of 2021.
100% Color Volume
A dazzling display of color.
LG OLED TVs achieve full Color Volume thanks to the excellent color reproduction technology of LG TVs. With 100% Color Volume, LG OLED can express 100% of the DCI-P3 spectrum across a 3D color space that covers the TV's full luminance range. So, this means that colors remain vivid and lifelike with full saturation no matter how bright or dark the display.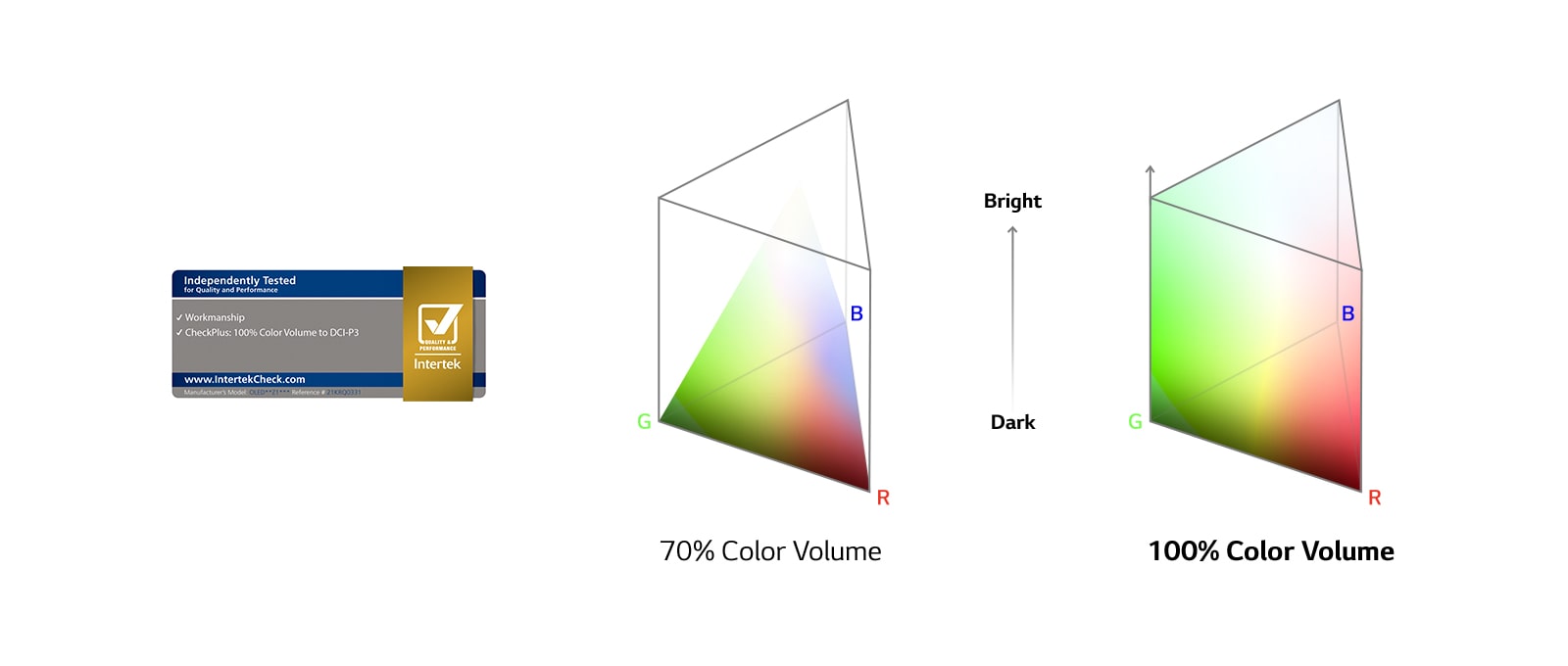 *Display Color Gamut Volume (CGV) is equivalent or exceeds the CGV of the DCI-P3 color space as verified independently by Intertek.
*70% Color Volume refers to LG's UHD TVs.
*Images simulated to enhance feature understanding.
OLED Cinema.
The award for best picture goes to…
LG OLED TV produces an award-worthy performance every time you watch thanks to its incredibly sharp picture. And with perfect black and 100% color fidelity, movies are seen how they're meant to be seen.
Entertainment
Home to all your favorites.
Access the Apple TV app and Netflix. Choose From the latest movies, TV shows, documentaries, and live sports, and find them all in one place.
*Netflix streaming membership required.
**Apple, the Apple logo, and Apple TV are trademarks of Apple Inc, Registered in the U.S. and other countries.
***Supported service may differ by country.
Dolby Vision IQ & Dolby Atmos
A transformative TV experience.
Dolby Vision IQ intelligently adjusts picture settings based on content genre and ambient surroundings, while Dolby Atmos delivers multi-dimensional surround sound — a powerful combination that produces breathtakingly cinematic results.
*Screen images simulated.
HDR 10 Pro
Get the full range of enjoyment.
LG's own dynamic range technology, HDR 10 Pro, adjusts brightness to enhance color, reveal every tiny detail, and bring lifelike clarity to every image — it also intensifies regular HDR content. So, now all your favorite movies and shows will be more vivid and vibrant from beginning to end.
OLED Gaming.
It's game over for the competition.
LG OLED TV puts you ahead of the game with swift response, the latest gaming features, and a 120Hz display for a smoother playing experience. This is the ultimate TV for your gaming setup.
Partnerships with
Game Industry Leaders
An unbeatable combo.
LG continues to work with industry-leading companies to ensure you get the best possible gaming experience. So, we partnered with NVIDIA and AMD to make LG OLED TV the only G-SYNC and AMD FreeSync™ Premium certified TV. Moreover we also teamed up with AMD FreeSync. So, on top of that. Furthermore we joined forces with Xbox to unleash the full potential of next-gen gaming, becoming the official TV partner of the Xbox Series X console. Combine all this with the stunning picture quality and ultra-fast response times of OLED and you're guaranteed to get the most out of gaming every time you play.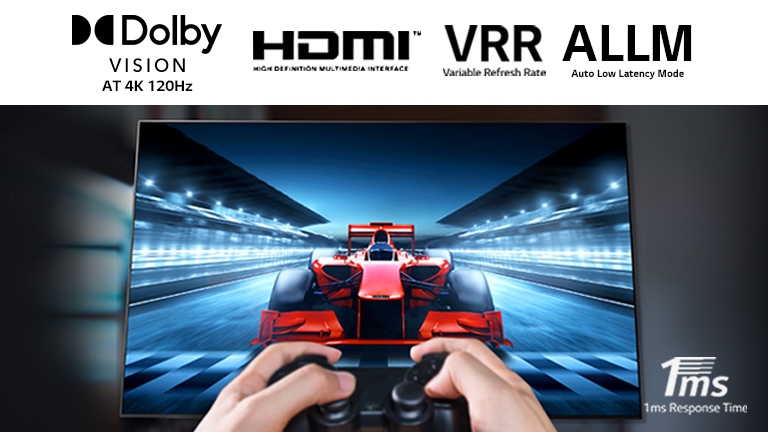 The Latest Gaming Specs
Play at the highest standard.
LG OLED TVs are capable of a 1ms response time, while support for VRR, ALLM, and eARC meets the latest HDMI 2.1 specifications. These features allow fast-moving content in higher resolution and smooth, synchronized graphics to give you a more lifelike experience and a better chance of winning. Additionally, OLED C1 and G1 are now the world's first TVs to support the incredible Dolby Vision® HDR at 4K 120Hz for gaming, enhancing the playing experience to previously unseen levels.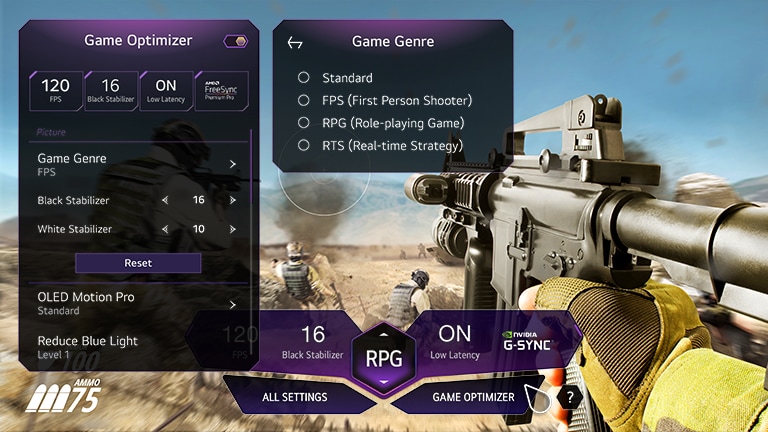 Game Setting Controls
Complete and convenient control over game settings.
Game Optimizer provides optimized settings for various game genres including FPS, RPG, and RTS. You can access everything in one place for greater control over picture and sound. And toggle VRR, NVIDIA G-SYNC, and AMD FreeSync™ technologies. Moreover, the new Game Dashboard is a simplified menu that lets you quickly check or make adjustments to certain game settings on the fly — all during gameplay. While the dashboard is open, you can go back to the optimizer to access more settings or change the color of the gaming style head up display.
OLED Sport.
TV in a league of its own.
LG OLED TV shows every play in all its realistic glory. Fast sporting action with smooth motion means being a spectator has never been so spectacular — you've now got a front row seat to all the best sporting events.